Our upcoming performances for this season are below, please continue to check here for more performances! If you would like to attend any of our performances to support the dancers please contact us.
Providence Bruins Hockey

Saturday September 28th
Game time 7:05pm, 8:15pm on ice performance

UMass Lowell Hockey

Saturday October 19th
5:30pm on ice performance time

Studio Halloween Party

Saturday October 26th
Noon to 2:00pm
Moseley Woods Newburyport

Performance Team Christmas Party
BOSTON CELTICS

Sunday December 22nd
Boston – TD Garden
Tickets $70.00

Maine Red Claws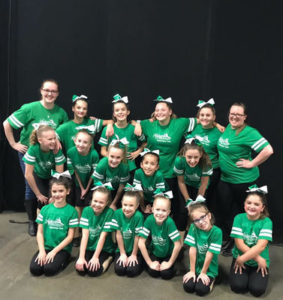 Boston Celtics 2018
Performance Team is a great way to dance more and have fun! We have performed for the Sea Festival of Trees, the Manchester Monarchs & UMass Lowell hockey games, the Maine Red Claws Basket Ball games, The Boston Celtics and much more!
The team is broken up into groups, our Gems, Emeralds, Sapphires, and Pearls; which have an 1 hour to a 1.5 hour rehearsal time each week. All groups come together for a one hour team rehearsal every week. Each student will participate in a recital ballet and a recital jazz class per week.